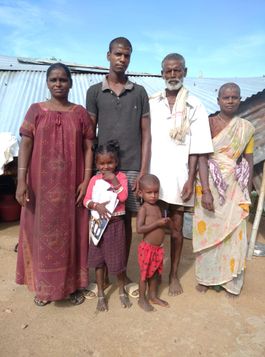 This here on the left is Sundar Ayya's family (minus the younger one of his sons). They lost their hut / dwelling one and a half months ago in a heavy storm.
After the weather passed, they scrambled what they could and re-assembled it into a hut good for a temporary stay in good weather. Knowing this, they put their savings on the table and started constructing a simple house for themselves. However, the funds were good enough for the foundation and walls, but without a proper roof and windows and doors, they are only left with the impermanent shelter of theirs.
Please help us help them to get the required funds and finish constructing their home. We have consulted with a civil engineer regarding the amount we are raising for their help. He has also promised to supervise the work in such a manner that the money will be used in a right way. This link will take you to the fundraiser page in Milaap for the donation.
Below there are a few pictures from the site for you to see with your own eyes.
Thank you in advance,
Pekka