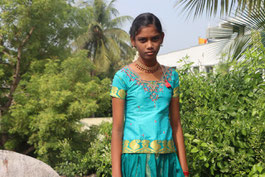 Hi all,
Meet the girl in the picture, Mahalakshmi. She is 14 years old and going to a Government Tamil medium school 9th grade in her hometown. Five years back her father died and ever since her single mother took care of her education and life in the best way she could  putting her to English medium school, where she managed quite well being even in top 5 of her age group.
6 months back her mother remarried, but the father-in-law didn't want Mahalakshmi to join the new family. Hence, her mother was forced to leave her to Maha's cousin's family, and the distressed girl has not heard of her mother ever since. In the new family parents are able to bring the food to table, but everything else has been very tight ever since the only bread-winner of the family, Maha's late father's brother met with a serious accident. That is also why Maha was forced to leave her only comfort, English medium school and join Government school (Tamil medium) for her studies. In her difficult situation, her few wishes include to be able to study again in the English medium school and to have a bicycle.
We are looking for someone or a group of people, who would "adopt" Maha for the coming 4 years and cover her education until the 12th grade. Fees, books, transportation and uniforms cost Rs. 25.000/- annually. 
English school is the only comfortable and familiar thing left in her life after her mother had to go, and even that has now been denied due to lack of money. Please help us support Mahalakshmi in her difficult times.
Donations made to our Trust account are eligible for a tax exemption according to the 80G facility.